Two Islamist leaders are playing a central role organizing the protests against the presence of "LGBTQ" books in school libraries in Dearborn, Michigan.
The controversy erupted on Monday when a crowd of mostly Muslim, but some Christian, protestors chanted "vote them out" before flustered school board officials at a chaotic meeting on Monday. A local NPR station reports that "Most were young men, some led by Muslim religious leaders— a contrast to the largely Christian groups that have led other efforts to restrict books in Michigan libraries."
Signs wielded by protestors stated: "Keep Your Dirty Books in the Closet," "Stop Grooming Our Kids," and "Homosexuality Big Sin."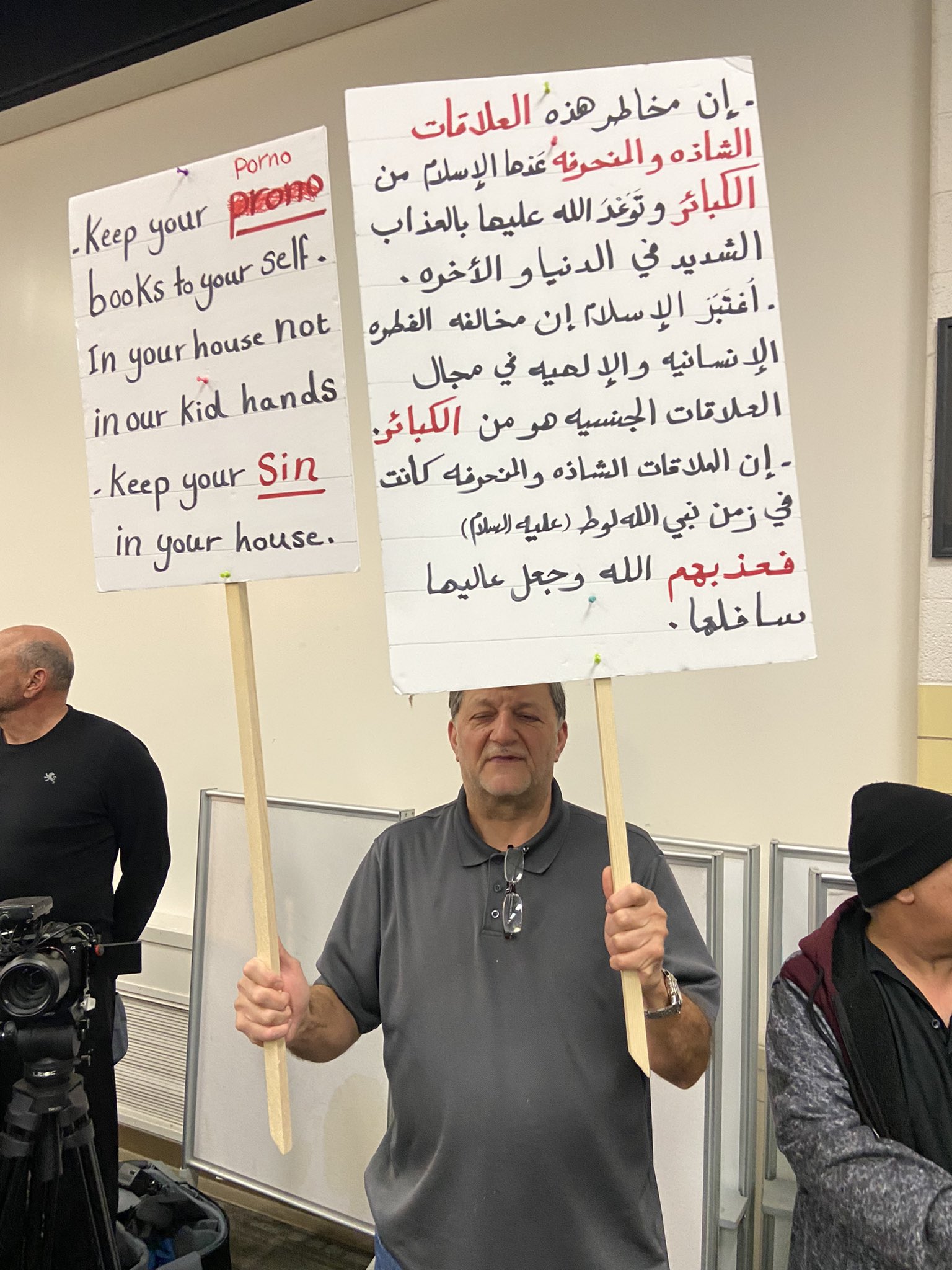 On Thursday, protests erupted again during a second attempt to hold the meeting. Niraj Warikoo of the Detroit Free Press reports that LGBT speakers were "loudly and repeatedly booed and jeered at."
Warikoo added that protestors also booed loudly at mentions of U.S. Representative Rashida Tlaib and Dearborn Mayor Abdullah Hammoud, whom were accused of "being in favor of LGBTQ books the protesters believe are offensive and violate their religion."
The protesters were encouraged to attend the meeting by two Islamist leaders in the region: Hassan Qazwini, head of the Islamic Institute of America, a Shia mosque in Dearborn Heights and Dawud Walid, the head of the Michigan chapter of the Council on American-Islamic Relations (CAIR).
Qazwini addressed his congregation last week about the presence of pro-"LGBTQ" books in Dearborn school libraries, declaring that they "are completely inappropriate for our children to read. Some of those books promote pornography. Some of them promote homosexuality. We don't need this."
Qazwini then told parents in his mosque to attend Monday's meeting of the school board and let their voices be heard. He encouraged his congregants to tell school board members that "we don't want these kind of books in our library. … We need to shield our children, and make sure they are protected, physically, mentally and morally."
"If you are the majority of people in Dearborn, you rule," he said.
Qazwini's message was adopted by protestors, with one holding up a sign declaring: "If democracy matters, we're the majority."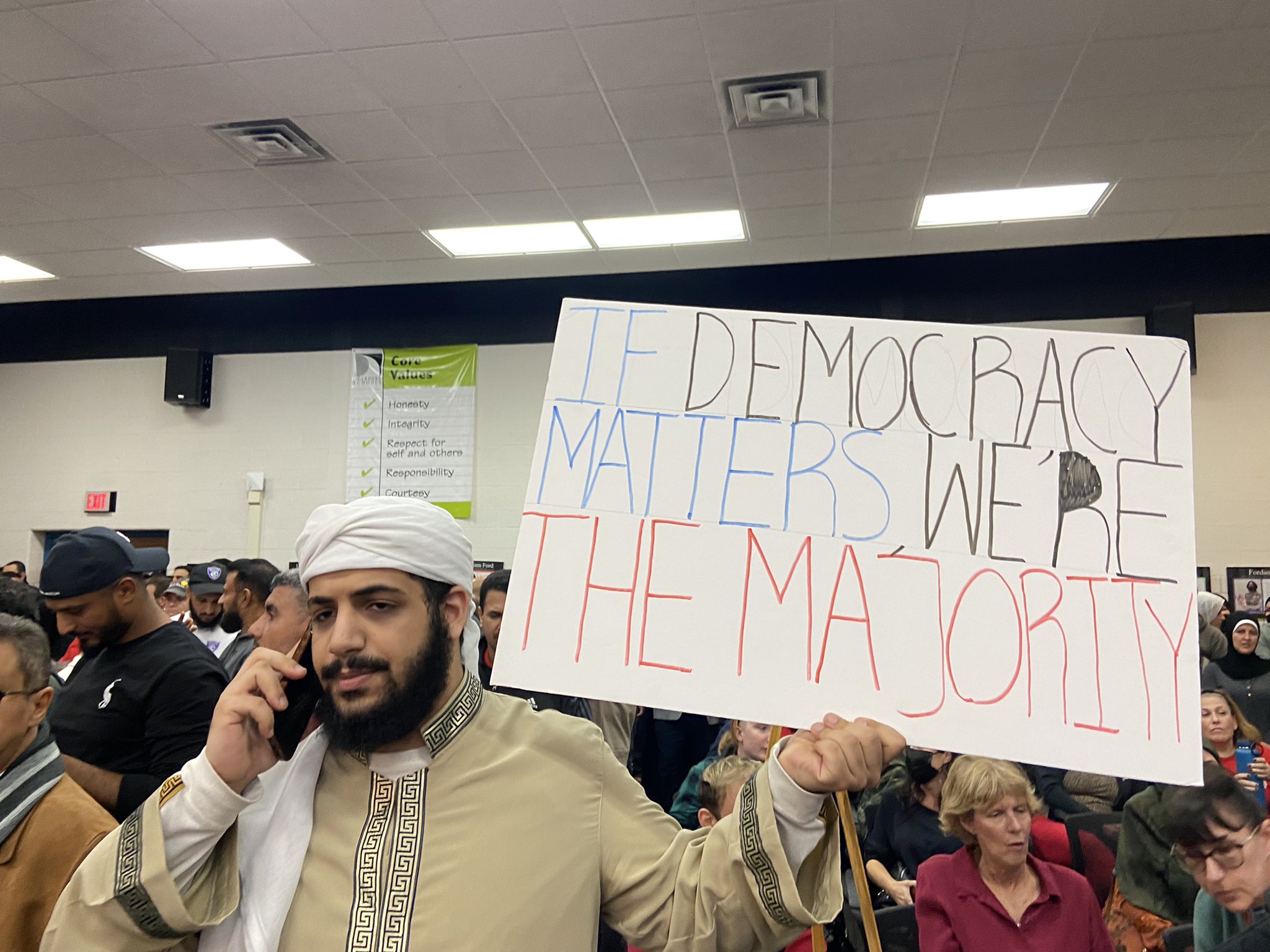 Qazwini's has boasted of his close ties with Mohammad Hussein Fadlallah, the late "spiritual leader" of the designated Shia terrorist organization Hezbollah. In 2010, Qazwini hosted a memorial service for Fadlallah at the Islamic Center of America, where he then served as imam.
In 2020, the Bernie Sanders presidential campaign denounced the "toxic and offensive" statements of Qazwini, after media reports focused on his claims that the Islamic State terrorist group "somehow is connected to Israel" and that homosexuality is "against human nature."
For his part, Walid, the head of CAIR's chapter in Michigan, encouraged the "Dearborn Muslim community" to attend the meeting and peaceably protest the "sexual content" imposed on Muslim children.

As with Qazwini, Walid encouraged his audience to attend school board meetings. In an October 7 sermon, he also mentioned his separate efforts to remove a graphic novel named "Persepolis," which depicts an Iranian girl escaping the cruelty and brutality of the Iranian revolution, from other school libraries across the country.
While CAIR's Michigan branch has promoted Walid's statements, the national branch of CAIR, as well as other groups, have stayed silent on the Dearborn protests.
CAIR's various branches and national headquarters have long involved themselves in progressivist causes, often in partnership with "LGBTQ" groups.
Walid and Qazwini's campaigns have been noticed by others, however. Sheikh Yasir Qadhi, perhaps one of the best-known clerics in the United States, praised the protestors and declared: "Conservative Christians and Jews need to understand that Muslims are their allies in wanting a purer and morally upright society."
The Detroit Free Press also noted that "conservative Christians are mobilizing among the same Muslims that some of them used to disparage."
Separately, the campaign has been positively covered by Islamists in Britain, Germany and France.


Sam Westrop is Director of the Middle East Forum's Islamist Watch.